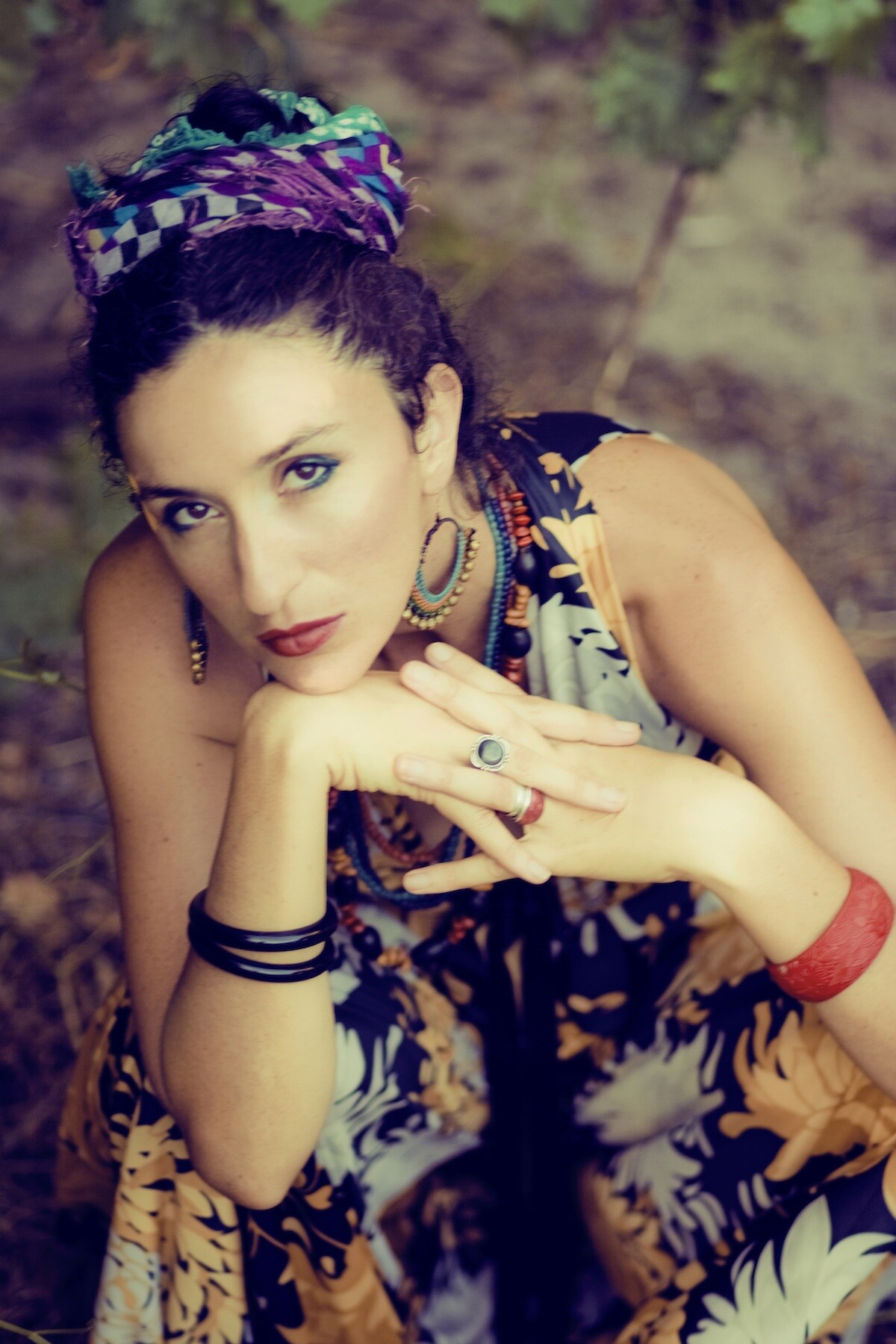 The Aussie songstress talks touring, kids and of a Kimberley region in her homeland currently under threat.

Evan Kanarakis
---
Danielle Caruana, otherwise known to her fans as Mama Kin, is excited. After the bus for a summer tour of the U.S (alongside roots-rocker husband's band the John Butler Trio) broke down a week ago, they've been waiting on their replacement. What just arrived is one ridiculous, pimped-out substitute for wheels that will serve them well on the next leg of the tour after a gig in Burlington, Vermont tonight. But while the bus itself may appear as a fitting match to the noise and excess of rock and roll, the carnival atmosphere of life on the road for these bands will be tempered enough to allow for two other important passengers to continue to accompany them on the journey: Danielle and John's two children, daughter Banjo, 8, and son Jahli, 5.
Mama Kin was, after all, in a large part inspired by having children. Danielle was the youngest of six in a Maltese-Australian family of considerable musical talent, but the wealth of that talent was also quite intimidating and stifling in terms of limiting her own confidence to also express herself through music. This was only magnified when she met, fell in love with, and married another talented musician in John Butler. While she has spoken at length elsewhere about overcoming her fears and the fulfilling leap that she finally took into music, the crux of that decision lay in, as Danielle explains, recognizing that "you can't ask your kids to be brave and not be brave yourself."
The results of that leap are music that has been diversely described as 'soulful', 'bluesy', 'swampy' and 'jazzy', to name but a few. Mama Kin is, indeed, all of these things and then some, as her first full-length release this past July, Beat and Holler, is an album of considerable emotional range, packed with sass and verve that is only punctuated further in her live performances. A few nights earlier at the State Theatre in Portland, Maine I had a chance to see Mama Kin in action and, alongside her brother Michael on keyboards and drummer George Servanis, they delivered a show that captivated and impressed an audience clearly caught off-guard while waiting on the John Butler Trio headliner that was to follow. And though still relatively fresh off the release of Beat and Holler, Danielle's clear embrace of her musical side continues to bear fruit, as there's talk of perhaps recording a new album in early 2012 (in fact the band have already been laptop-demoing new material in hotel rooms and on the bus throughout this tour).
The opportunity to be able to share all of these experiences with her children is undoubtedly special (and, arguably, unique when compared to many other touring musicians). Danielle has managed their home schooling and enlisted added help from time to time on tour that has been of great assistance, yet even so, challenges can crop up. "The kids are great travellers, but it can be tricky," she explains. "The other day Banjo told me that she missed her friends. Our attitude as parents though has always been that if things need changing then we'll do it."
But given the undoubtedly happy adventure that such travel must be for a child, it's little surprise that whenever they've suggested changes regardless, Banjo has invariably responded with a firm 'No!' "Like any kids there are occasional off days, but then again, it's more like there are bad moments than there ever being bad days."
While naturally on occasion Mama Kin and the John Butler Trio will pass on certain gigs or opportunities because of the first priority to their children, that suits just fine. After all, the band started as a project for Danielle after her first child was born. That's a significant difference when compared to the (potentially far more volatile) experience of so many musicians who discovered parenthood while already mid-stream into their careers.
And considering the strong musical influence Danielle's family had upon her, is there any doubting that between Mama Kin and the John Butler Trio their children, too, may also follow in their parent's footsteps one day? "Music is a language, whether they choose to speak it is their call," she tells me. While expression –and especially creative expression- is an important part of any child's wellbeing, "they need to be comfortable."
Right now, Banjo is learning violin. It's a popular first instrument for children, but also a great starting-point in music given the violin practically demands that you 'merit' your notes- there's a fine line between a beautifully played note on the violin and someone replicating the cries of cat in anguish. Danielle is loathe to push too hard, but also wants to instil a sense of discipline and make sure her daughter understands that one can only get out of an instrument as much as they're willing to put in, and that nothing beats time-tested hard work and practice.
As a child herself, Danielle just assumed her family possessed a musical talent that she didn't have. She hadn't recognized how much hard work had gone into their music- it was an assumption that, again, ultimately served to stifle her own confidence and musical expression. "So when Banjo does well on the violin I say to her, 'you earned it' instead of lavishing unconditional praise or forcing her to do something that may take all the love out of the process." When we've become so jaded to certain musicians waxing vainly lyrical about how they were 'born' with innate talent, it's refreshing to hear a successful musician that still emphasizes the need to refine and work hard at one's craft, whether you're a three-cord punk rocker, a jazz pianist –or an 8-year-old violinist.
Our conversation finally turns to a subject that Danielle cares a great deal about –as does her husband- and that's the Kimberley region of Western Australia. She used to live in the community and, indeed, Broome is where she first met John. A current proposal by the Australian petroleum and exploration company Woodside (in joint-venture with international corporations that include Chevron and Shell) would build a $35 billion dollar gas hub north of Broome at James Price Point. The proposal has proven to be highly controversial and divisive.
Lines of opposition are split between those who feel it would provide much-needed financial benefit to communities (particularly indigenous) in the region, and those that see this as a bullish proposal spearheaded by Woodside and the Western Australian Premier in support of the development –Colin Barnett- charging ahead before everything has been properly assessed and all aspects of the project considered. There is a real fear that, if approved, the hub would only pave the way for further onshore gas processing and distribution. The cost, they argue, is the destruction of significant ecological and historical treasures.
The Kimberley is, truly, one of the last untouched wilderness regions on earth. Nearly the size of the entire state of California, the area is one of vast beauty and abundant wildlife (some of which is at risk of extinction), while also home to an extensive collection of 130 million-year-old dinosaur footprints and rock paintings dating back some 40,000 years. Though a burgeoning destination for eco-tourism, the region is still so remote that many Australians are not even aware of the extent of treasures held within, and of the tremendous cultural and even spiritual value it holds to the local indigenous communities. It was here that Danielle made a connection to her country that she'd never found before. "The area is alive, humming, absolutely vibrant. There's nowhere on earth that compares to it."
In early September those invested in preserving the region celebrated a major victory when Federal Environment Minister Tony Burke announced that almost 20 million hectares of the Kimberley had been added to the National Heritage List. This doesn't block development from happening, but that has never been the goal of activists anyway- all they ask for is development that is environmentally and culturally appropriate, and those are exactly the kinds of considerations that a heritage listing forces into discussion. Critically, however, the region targeted by Woodside for their gas hub was excluded from this listing. As a result, the battle still rages on to shut down what is seen as a potentially destructive 'floodgate development' that would render the heritage listing irrelevant anyway by the damage it could usher in.
To help raise money for the cause, Mama Kin and John have recorded the charity single 'Losing You' with all proceeds going to the Broome Community No Gas campaign and specifically aiding those members conducting the peaceful blockade and fighting clearing of land at James Price Point. There's an undoubted urgency in Danielle's voice when discussing the issue, and even as Mama Kin is expected onstage in Burlington in just a short time, there's time enough to add one last point of emphasis: "The world is on a fire sale," she tells me. "This is a global issue now."
To listen to a live version of 'Losing You' that Mama Kin and John Butler recorded in New York City this past summer, and to find out where you can purchase the studio-recorded single, visit her YouTube Channel (link).